CBEC has Launched Official Mobile Application CBEC GST at Google Play Store. The MOBILE APP (CBEC GST MOBILE APP) can be downloaded at GOOGLE PLAY STORE now. The publisher is Central Board of Excise and Customs (CBEC), Department of Revenue, Ministry of Finance, Government of India.
Goods and Services Tax is a destination-based consumption tax on supply of goods and services, set to be implemented shortly in India. In order to familiarize taxpayers and to ensure a smooth transition to GST Goods and Services Tax, CBEC has published an official application that provides information on migration to GST, draft GST laws and rules, FAQs, Latest Updates etc. Users can also provide feedback and contact CBEC Mitra Helpdesk using the application. CBEC 's GST HELPDESK can be contacted through the App round the clock by toll free number/email.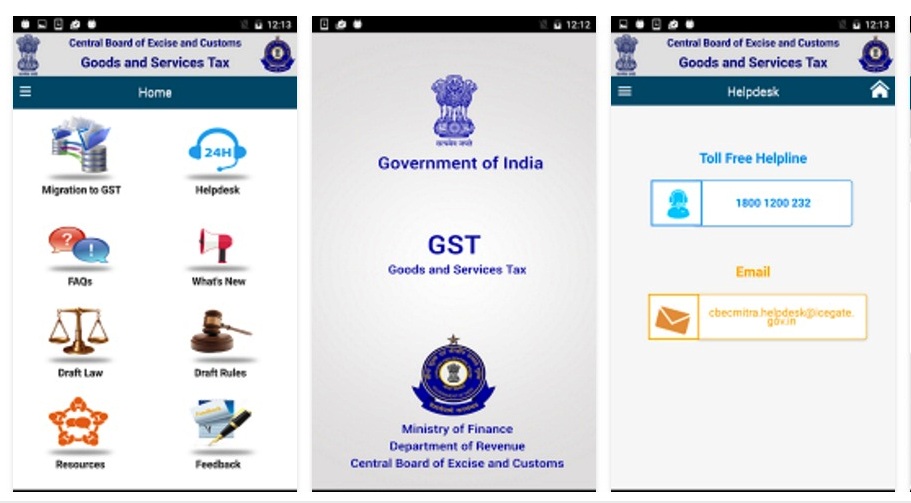 CBEC's Mobile App for GST In step with the government's Digital India initiative, Central Board of Excise and Customs has launched a mobile application for Goods and Services Tax. Taxpayers can readily access a host of GST information such as:
Migration to GST-Approach and guidelines for migration
Draft Law-Model GST Law, IGST Law and GST Compensation Law
Draft Rules-Rules related to Registration, Returns, Payment, Refund and Invoice
Frequently Asked Questions (FAQs) on GST
Various resources on GST such a videos, articles etc.
The mobile application enables taxpayers to be well informed of the latest updates on GST. Taxpayers can also provide feedback and contact CBEC's 24×7 helpdesk "CBEC Mitra" through a toll-free number or email, at the touch of a button. The mobile application can be downloaded free of cost on Android platforms.
The iOS version will be made available shortly. With its elegant and easy-to-use interface, the GST Mobile Application is a yet another initiative by CBEC towards improving ease of doing business and providing outstanding taxpayer services.
---
Source: http://www.cbec.gov.in/ #cbecGSTApp
Put Your Comment Below