.
These days income tax assessee's face various Fraudulent Income Tax Refund E-mail from Fake Income Tax Web Sites. These emails are appear to have been sent from Income Tax Department, but were actually online traps to dupe unsuspecting victims.
The Correct Procedure of Refund: The Income Tax Refund is generated only through filing income tax returns and not by other means. Once the returns has been filed the I.T. Department process the return electronically and then automatically transfer the refund to Bank A/c.
Please note following two things which should be kept in Mind by every Tax Assessee:-
The Income Tax Department does NOT request detailed personal information through e-mail. 

The Income Tax Department does NOT send e-mail requesting your PIN numbers, passwords or similar access information for credit cards, banks or other financial accounts.
What to Do when Some One received Fraudulent Income Tax Refund E-mail:
If some one receive an e-mail from someone claiming to be the authorized by Income Tax Department or directing you to an Income Tax website:
Do not reply.
Do not open any attachments. Attachments may contain malicious code that will infect your computer.
Do not click on any links. If you clicked on links in a suspicious e-mail or phishing website then do not enter confidential information like bank account, credit card details.
Do not cut and paste the link from the message into your browsers, phishers can make link look like real, but it actually send you to different websites.
Use anti-virus software, anti-spyware, and a firewall and keep them updated. Some phishing e-mails contain software that can harm your computer or track your activities on the internet without your knowledge. Anti-virus & Anti-spyware software and firewall can protect you from inadvertently accepting such unwanted files.
Note: If someone receive an e-mail or find a website is pretending to be of Income Tax Department, forward the e-mail or website URL to phishing@incometax.gov.in. A copy may also be forwarded to incident@cert-in.org.in
Below is the copy of Fraudulent Income Tax Refund E-mail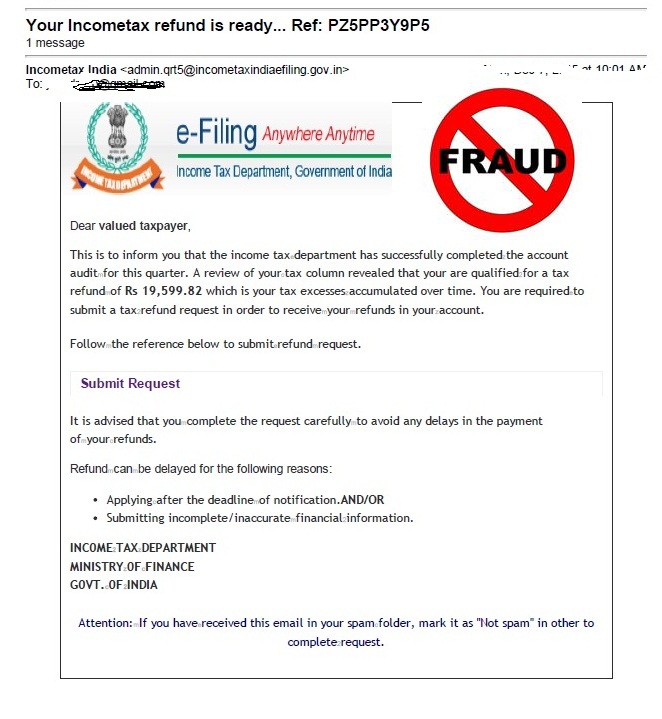 ---
Fraudulent Income Tax Refund E-mail
Put Your Comment Below