An Overview of GST: In the earlier Indirect Tax Law (Excise Duty, Service Tax, VAT etc.), the Central Government levies tax on, manufacture of certain goods in the form of Central Excise duty, provision of certain services in the form of service tax, inter-State sale of goods in the form of Central Sales tax. Similarly, the State Governments levy tax on and on retail sales in the form of value added tax, entry of goods in the State in the form of entry tax, luxury tax and purchase tax, etc. Accordingly, the earlier indirect tax system is plagued with multiplicity of taxes – at different rates – at multiple points. Further, absence of any setting off mechanism results in cascading effect of these taxes. This is accentuated by a huge compliance cost that is incurred in respect of each of the taxes.
DIFFICULTIES/PROBLEM IN THE PRESENT INDIRECT TAX SYSTEM:
There is cascading of taxes as taxes levied by the Central Government are not available as set off against the taxes being levied by the State Governments;
Certain taxes levied by State Governments are not allowed as set off for payment of other taxes being levied by them;
The variety of Value Added Tax Laws in the country with disparate tax rates and dissimilar tax practices divides the country into separate economic spheres; and
The creation of tariff and non-tariff barriers such as octroi, entry tax, check posts, etc., hinder the free flow of trade throughout the country. Besides that, the large number of taxes create high compliance cost for the taxpayers in the form of number of returns, payments, etc.
In view of the aforesaid difficulties, all the above mentioned taxes are proposed to be subsumed in a single tax called the Goods and Services Tax which will be levied on supply of goods or services or both at each stage of supply chain starting from manufacture or import and till the last retail level.
So, any tax that was being levied by the Central Government or the State Governments on the supply of goods or services is now converged in Goods and Services Tax which is proposed to be a dual levy where the Central Government will levy and collect tax in the form of central goods and services tax and the State Government will levy and collect tax in the form of state goods and services tax on intra-State supply of goods or services or both.
EXPECTATION FROM GST LAW:
The new Indirect Tax law (i.e. GST) is confer power upon the Central Government for levying Goods and Services Tax on the supply of goods or services or both which takes place within a State. Following are the main expectation from GST:
GST legislation will simplify and harmonise the indirect tax regime in India;
Reduce cost of production and inflation in the economy, thereby making the Indian trade and industry more competitive, domestically as well as internationally.
Due to the seamless transfer of input tax credit from one stage to another in the chain of value addition, there is an in-built mechanism in the design of goods and services tax that would incentivise tax compliance by taxpayers.
The New Indirect Tax Law will broaden the tax base, and result in better tax compliance due to a robust information technology infrastructure.
GST STRUCTURE IN INDIA
Centre will levy and administer CGST & IGST while respective States/Union Territories will levy and administer SGST/ UTGST.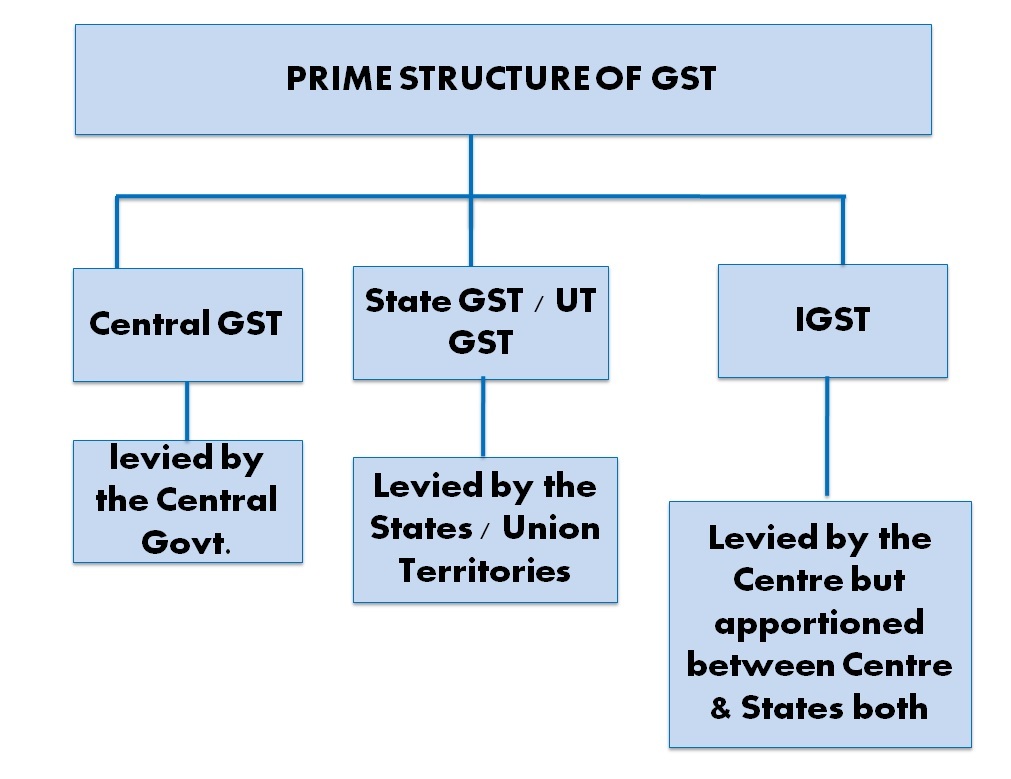 It would be a dual GST with the Centre and States simultaneously levying it on a common tax base. The GST to be levied by the Centre on intra-State supply of goods and / or services would be called the Central GST (CGST) and that to be levied by the States/ Union territory would be called the State GST (SGST)/ UTGST. Similarly, Integrated GST (IGST) will be levied and administered by Centre on every inter-state supply of goods and services.
India is a federal country where both the Centre and the States have been assigned the powers to levy and collect taxes through appropriate legislation. Both the levels of Government have distinct responsibilities to perform according to the division of powers prescribed in the Constitution for which they need to raise resources. A dual GST will, therefore, be in keeping with the Constitutional requirement of fiscal federalism. 
EXISTING TAXES SUBSUMED IN GST LAW
(i)    Taxes currently levied and collected by the Centre:
Central Excise duty
Duties of Excise (Medicinal and Toilet Preparations)
Additional Duties of Excise (Goods of Special Importance)
Additional Duties of Excise (Textiles and Textile Products)
Additional Duties of Customs (commonly known as CVD)
Special Additional Duty of Customs (SAD)
Service Tax
Central Surcharges and Cesses so far as they relate to supply of goods and services
(ii) State taxes that would be subsumed under the GST are:
State VAT
Central Sales Tax
Luxury Tax
Entry Tax (all forms)
Entertainment and Amusement Tax (except when levied by the local bodies)
Taxes on advertisements
Purchase Tax
Taxes on lotteries, betting and gambling
State Surcharges and Cesses so far as they relate to supply of goods and services
The GST Council shall make recommendations to the Union and States on the taxes, cesses and surcharges levied by the Centre, the States and the local bodies which may be subsumed in the GST.
EXISTING TAXES NOT SUBSUMED IN GST LAW
Taxes currently levied and collected by the Central Government:
Basic Customs Duty (never included in GST, being tariff barrier)
Duty of Excise on tobacco and tobacco products (will be levied over and above GST)
Terminal taxes on goods or passengers, carried by railway, sea or air; taxes on railway fares and freights
Central Stamp Duties
Existing Cess like Oil Industries Development Act Cess, Clean Environment Cess etc.
Taxes currently levied and collected by the State Government:
Fees in respect of markets and fairs (Mandi fees)
Taxes on lands and buildings (property tax)
State Stamp Duties
Taxes on mineral rights (Royalties)
Electricity Duty
Taxes on goods and passengers carried by road or on inland waterways
Taxes on vehicles (Road Transport Authority)
Tolls tax.
Taxes on professions, trades, callings and employments.
Entertainment Tax by local bodies.
GOODS KEPT OUTSIDE GST
Alcoholic liquor for human consumption;
Petroleum crude
High speed diesel
Motor spirit (commonly known as petrol)
Natural gas
Aviation turbine fuel
Actionable claims except lotteries, betting and gambling o Specified Real Estate
Money
GOODS AND SERVICES TAX COUNCIL (GSTC)
The GSTC is a Constitutional Body created for taking policy decisions about introduction and implementation of GST, including about exemptions, tax rates and tax credits. The GST Council is structured as follow:
| | |
| --- | --- |
| (a) the Union Finance Minister | Chairperson |
| (b) the Union Minister of State in charge of Revenue or Finance | Member |
| (c) the Minister in charge of Finance or Taxation or any other Minister nominated by each State Government | Members. |
ANTI-PROFITEERING MEASURE
As per section 171 of the CGST Act, 2017 any reduction in rate of tax on any supply of goods or services or the benefit of input tax credit shall be passed on to the recipient by way of commensurate reduction in prices. An authority may be constituted by the government to examine whether input tax credits availed by any registered person or the reduction in the tax rate have actually resulted in a commensurate reduction in the price of the goods or services or both supplied by him.
COMPLIANCE RATING MECHANISM
As per Section 149 of the CGST Act, 2017 every registered person shall be assigned a compliance rating based on the record of compliance in respect of specified parameters. Such ratings shall also be placed in the public domain. A prospective client will be able to see the compliance ratings of suppliers and take a decision as to whether to deal with a particular supplier or not. This will create healthy competition amongst taxable persons.
Put Your Comment Below